AssetManage lets you keep track of the employees that work for your organization. To view the list of Employees, select View > Show > Employees from the main menu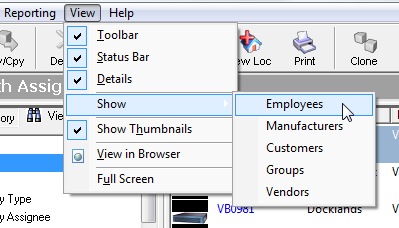 You can also view the employee list by click on the View tab, then selecting the Employees icon.
To add a new employee to the program, select Actions > Add Employee.. from the main menu.
You can also add a new employee dynamically from the Add Asset dialog. Simply type the the last name, then the first name separated by a comma.
Or the first name, then last name separated by a space.
To print employee badge(s). Select the employees, you wish to print the badges for, then right mouse click and press the Print Employee Badges... command from the popup menu.
The AssetManage report feature is context-sensitive, to run a report based only on the assets that belong to a particular employee, expand the Employees section in the View main window by double-clicking on the Employees icon or clicking on the box with a plus sign to the left of the employees icon.
Then right mouse click on the employee whose assets you wish to view, pick a report from the popup menu as shown below.