AssetManage allows you to sort data within reports using whichever data field(s) you prefer. To specify a field or fields by which to sort the report, go to
Reporting > Edit Report
and, when the Report Designer appears, click on the main table object, then select Sort Order from the Table section in the ribbon bar.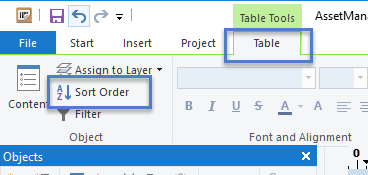 Another way to select the sort field is to first: Click on the table object in the report.
The Properties window contains a Sort Order field
The selection of Sort Order property, showing the available sort options.
Click on the button with 3 dots (...) to bring up the Sort Order window. From there select which fields to sort on.
Table Sorting
When using groups in reports, it is important to sort by the grouping field. So if you have a report grouped by Category, the report should be first sorted on the category field.
AssetManage also has a report filter, which allows you to set up parameters by which to select the data appearing in a report. To access the report filter, select the Filter button on the ribbon bar.
You can also specify a filter for an individual table:
When the Edit Filter Condition dialog box appears, follow the tooltips and the internal Report Designer help to create the filter, as shown below. In the example below Asset.Category != "" specifies that assets without an assigned category should not be included in the report:
The Edit Filter Condition dialog box, showing Variables and Functions.