There are several ways to dispose assets in AssetManage:
1/ Select:
TOOLS > DISPOSE...
from the main menu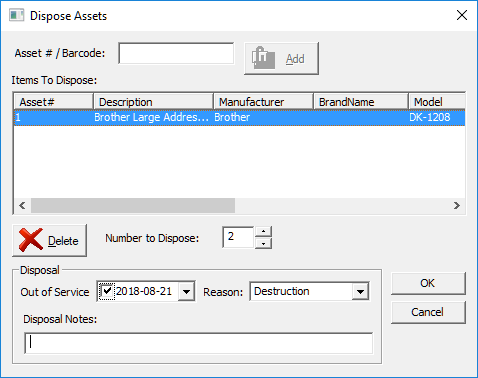 Enter or scan the asset numbers of the items to be disposed. Enter the Out of Service and Disposal Reason, then click on the OK button.
If only 1 item with a quantity of greater than 1 is to be disposed, you can select the quantity to be disposed.
If multiple assets are to be disposed, the Number to Dispose fields will not appear.
2/ Select the assets you wish to be dispose in the asset list window. Right mouse click to show the popup menu:
Select Dispose.. from the popup menu.
3/ 'Drag' the items to be disposed into the Disposed Assets folder. This action will bring up the Disposal dialog.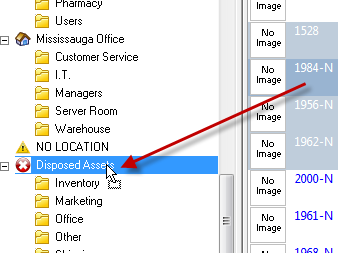 It is also possible to 'Undispose' an asset by 'dragging' it out of the Disposed Assets folder to another location folder. Note that doing this will set the disposal fields to empty. An asset is considered disposed if the Date Sold, Disposal Method or Placed out of Service fields are set to a non-empty value.
4/ Edit the asset you wish to dispose by double clicking on the item or choosing Properties.
Click on the Depreciation tab. Enter the Disposal information in the section highlighted in the screenshot above. Click OK to save the Disposal information and dispose the asset.
All Disposed Assets are moved to the Disposed Assets folder.