The location of the AssetManage data file (ASSETS.MDB) or the directory used to store images can be changed from within the Preferences dialog (under the Tools menu).
If you are using the multi-user capability of AssetManage, be sure that all users have read-write permission on both these directories.
AssetManage stores images attached to records as jpg images in the Images directory. The number after the prefix 'Asset' is the unique id of the asset record. The number in parenthesis "( )" is the image number. Each record can have up to 16 images. Images belonging to other record types will have a different prefix, for instance, Dealer images will have the prefix "Dealer" (instead of "Asset").
Each time an image is added to an asset, AssetManage creates a smaller thumbnail image. This thumbnail is created to improve the performance of image display within a list view.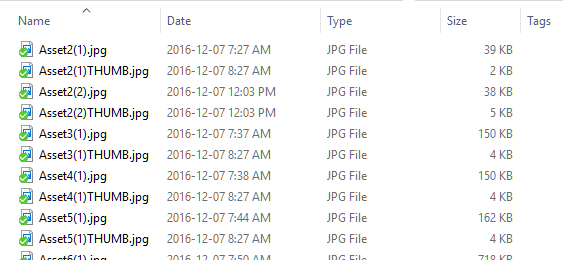 Asset images with prefixes and numbers, as described above.