Updated User Interface
The main window has been completely updated with a new, more modern look.
Barcode Scan Wizard
The barcode scan wizard has been improved. Previous versions of AssetManage would sometimes miss valid barcodes. That is no longer the case as we are using a faster and more efficient method to lookup the barcodes online.
Font Size
Users with high resolution displays can now increase the size of the items in a list of assets.

Configure the Toolbar, menus and keyboard shortcuts.
- Use the Customize... command to Set your own keyboard shortcuts, change options related to the toolbar & menus.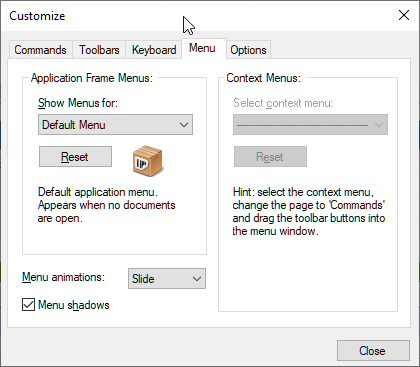 Reporting Improvements
Includes a major new version of the report designer.
* Reports will now be generated much faster.
* When editing reports, the report designer will start up faster
* Improved UI in the report designer, more options for creating graphs.
Barcode Lookup Database
The online database used by the AssetManage backup lookup now contains product information and images for over 205 Million Items. This is an increase of close to 50 million items over the AssetManage 2019 original version.
Group Links
If an asset is assigned to any group(s), you can simply click on the link in the details window and be taken to that particular group.