AssetManage offers a comprehensive print preview feature that allows you to view the printout before you send it to your printer. You can change the fonts and organize the information you require to control the information that appears on each page.
: To Print (or Print Preview) a single item
To Print or Preview a single item, it is necessary to set the Detail View for the item as the currently active view.
Right mouse-click in the Details View and select Print or Print Preview.,
Selecting Print Preview in the Details View, as described above.
: To Print the contents of the record list view
Select Print from the File menu or click on the Print button on the toolbar.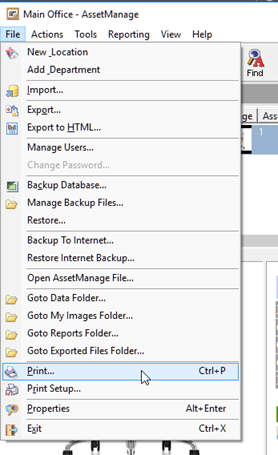 or click on the toolbar Print button.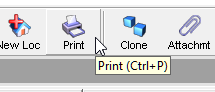 The Output Options dialog will appear. From this dialog you can:
•Specify which columns you wish to print.
•Choose to print only the items currently selected in the list view.
•Click on the Print, Preview, etc.. button when you are ready to print, preview or export the output.
The Print Options dialog will appear. From this dialog you can:
•Print or Print Preview the report.
•Export the report to any of the formats shown in the Direct To.. dropdown.