AssetManage includes pre-defined label templates for labels from the manufacturers: Avery, Herma and Leitz. If you are using another type of label, you can customize your label template by entering the measurements (offsets, width, height, etc...) for the label. These measurements can usually be found in the label packaging or online.
To enter the measurements for your labels:
Choose Reporting > Edit Labels... from the main menu.

Select the label template you want to use. Then select Project > Page Setup from the Report Designer main menu.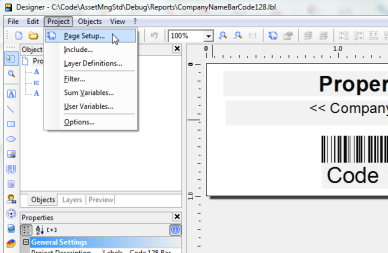 Click on the Regions tab...Expand the Layout Definition section. Then enter the measurements for the label and then click on the OK button to save your changes.
If you are using a label printer that prints out labels one per row, such as the Zebra label printer below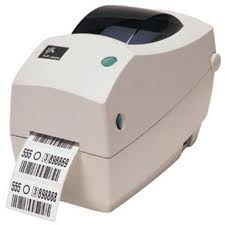 Make sure to set both the Horizontal Count and Vertical Count to 1.
Some label printers such as the Brother QL-700, will print labels in a different orientation than a normal
laser printer.
In this case the labels must be designed with each field having a 90 degrees orientation.
AssetManage ships with label templates:
ItemForSale-Brother-DK-1208.lbl
ItemComprehensive-Brother-DK-1208.lbl
CompanyNameBarCode128-Brother-DK-1208.lbl
CompanyNameBarCode3of9-Brother-DK-1208.lbl
These templates are designed for use on a Brother label printer using the DK-1208 Large Address Labels.