Q: I can't see newly imported data after using the Import function
A: Try closing and reopening the application.
Q: I have tried to install AssetManage on a standard Dell computer running Windows 10 twice with the same result.
That is when I try to launch the product,
I get the opening screen that lets me select continue running the demo. When I click that the error message:
Cannot find required Windows Registry Settings....
A: This error usually happens when the user does not have permissions to read or write from the WINDOWS REGISTRY.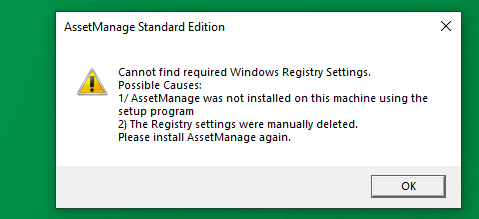 Q: I am trying to print out labels for several assets. Only the first label prints out. Or the first label prints out multiple times. Or the labels are cut off at the right or bottom.
A: This usually happens if you are printing to a label printer that prints 1 label per row. If this is the case...Edit the label template you are using (Reporting > Edit Labels...). Select Project > Page Setup from the report designer main menu. Expand the Layout Definition section of the Regions tab.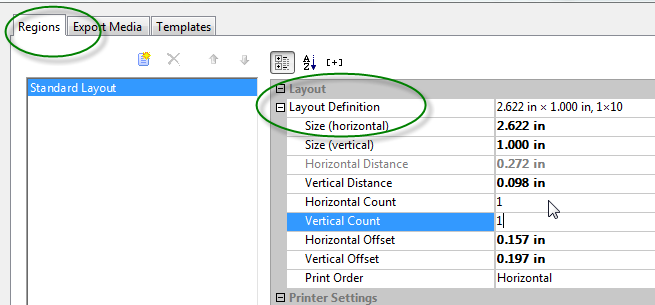 Set the Horizontal count and Vertical count to 1. If the problem is that the labels are cut off when printing. Find out the offsets and measurements of the labels you are printing to and enter them into the Layout Definition section. Save the label template and then try printing again.
Q: Importing an Excel spreadsheet is not importing all my data correctly.
A: This usually happens because of the formatting of the Excel spreadsheet. Try save the spreadsheet as a CSV file and import again.
Q: I change the database location. AssetManage cannot find the database afterward.
A: Try closing and reopening the application.
Q: I get "Divide by Zero" errors, or GPFs when trying to add items
A: Try this:
1. Run Regedit.exe
2. Delete All ../Software/Liberty Street Software/AssetManage nodes in both HKEY_CURRENT_USER and HKEY_LOCAL_MACHINE
4. Try running AssetManage again.
Q: AssetManage crashes when exiting, or when adding items.
A: This is usually because the Headers.wcd has become corrupted. Delete the file and try running AssetManage again.
Q: When trying to run AssetManage, a message similar to this appears:
"The Microsoft Jet database engine cannot open the file ...\AssetManage\Assets.mdb. It is already opened exclusively by another user, or you need permission to view its data."
A: This usually happens when a file called Assets.ldb gets corrupted. Delete Assets.ldb (NOT ASSETS.mdb !!) from your AssetManage directory and try running the program again.