One of the major new features in AssetManage 2017 is User Permissions. Users can be granted or denied permission to perform various tasks.
It is not mandatory to set user permissions. If no users are added, the software will behave as if every user has full permission to any features in the program.
To begin setting user permissions with AssetManage:
1/ Select File > Manage Users... from the main menu.
Note that the first user added must be an Administrator. Only users with the permission level of Administrator can add, delete and edit other user permissions.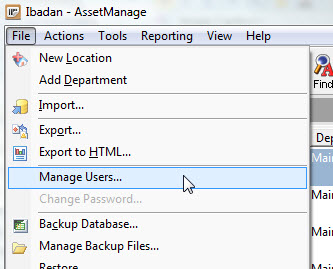 2/ You will see the Manage Users dialog open with no users define. Select the Add User button to begin by adding yourself as an AssetManage Administrator.
2/ Enter your Username and permissions. The first user must be an Admin so that option defaults to True and cannot be changed.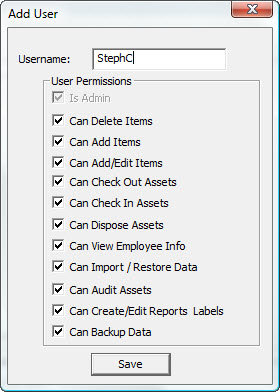 3/ Add additional users as needed. Setting the desired permission levels.