You can modify the location's description as well as the information that appears on the status bar when the location is opened.
: To edit a location
1.

Select the location you want to modify in the

Locations

tab in the main window.
2.

Cllick

Properties

from the

File

menu. The Location Properties dialog appears.
Make changes to the Name and description and other information as necessary.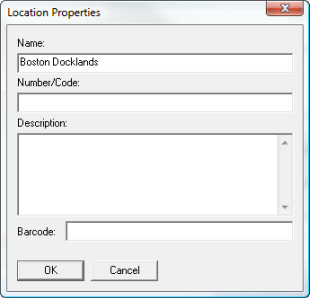 Changing the text in the Location box, as described above.
The Barcode field lets you print out barcodes for your location. Select Tools > Print Location Barcode Labels